I don't know what I want, can't you just draw something?
Drawing custom tattoos is what we do best– guessing is not. If we were to play this out, we would only find out what you DON'T want– to the frustration of both of us.
The real beautiful thing about tattoos is that it is a collaboration between us artist and client.  We are just artists with out you, with you we are Tattoo Artists.  With your story, idea, preferences we can figure out a way to make a real cool tattoo. Without your imput, you're kind of at our mercy–what's cool to me, might be awful for you (mAryD has a very dirty mind), but if we work together we can uncover what it is you actually DO want (and will pay for) and get to the business of tattooing that expertly.
We have tons of books, flash, and  experience (if all that fails, internet access) to help you narrow down what's cool for you, we love to talk tattoos and show you possibilities.  Call or stop by for a free consultation with an artist.  Good information is great practice.
On occasion our artists will have special drawings posted on social media, if one of those speak to you speak up! Follow us on instagram  @dAlopho or @UmbrellaInk)
ARE TATTOO'S PERMANENT?
Yes. Well, ours are (except the ones Mary gives to little kids, people without ID's, minors, people under the influence, or non tattoo-able folk). And you're going to love it.
We stand by our work, and will touch up anything that didn't heal proper from the original design at our own expense.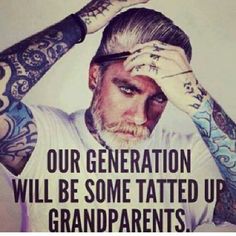 Remember: tattoos are forever, life is not.
WHY A "SHOP MINIMUM"?
Our shop minimum is $50. THIS IS FOR YOUR PROTECTION AS WELL AS OURS. We go to great lengths to insure a clean environment, pleasant experience, new (single-use needles and tubes), top-of the line tattoo machinery, as well as all the hidden costs of good business like insurance, regulation, and overhead.
A shop minimum is required to insure your safety, and ours, every single time.
Yes, even if it's "just a lil star."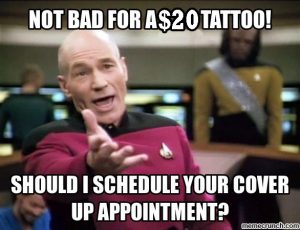 DOES IT HURT?
Yes. There are many factors which enter in to the "pain" debate: placement on the body, size, color, pain tolerance, experience, etc. Every person thinks and reacts a little different. "Pain is inevitable, suffering is optional."
Some areas hurt more than others, none of our artists are "heavy handed" (code for "goes too deep"), and at the end of the day (tattoo session) you will have sacrificed your suffering for a permanent body adornment.  The memory of pain will fade, but not your Umbrella Ink tattoo.
We do offer some "sissy sauces"  at an additional cost (everyone needs a lil help now and then) at varying levels. We'll keep your name confidential,  but we reserve the right to giggle and share the story if you need it for an upper arm tattoo.
HOW OLD DO I HAVE TO BE TO GET A TATTOO?
Indiana law requires that you be 18 or 16 with parental consent. We check ID's every single time; you will be required to bring it, or be refused. We maintain the right to refuse service to anyone, with or without reason. Generally, we suggest that if you are very young you consider getting a tattoo in a location that is concealable. It is your body, and your decision, we just want to make sure you are making an informed decision.
HOW MUCH ARE YOUR PIERCINGS?
I'M DRUNK AND ACTING RIDICULOUS, WILL YOU TATTOO ME?
No. You can come back when you're in a better decision making temperament. Abusive and augmentative people will be dealt with discretely.
Rule of thumb: If you are drunk, broke, rude, or pregnant– please come back when you're not.
Got any Drugs, hookers, hook-ups?
Try a dating service or craigslist. We do not participate in non-professional conduct at this shop, move along.
In the meantime, enjoy this funny Workaholic's clip.
CAN I GO TO A TANNING BED (OR THE BEACH) RIGHT AFTER I GET TATTOOED?
We do not suggest it. Wait until you're fully healed and even then, care for your skin with a higher-rated spf for the ultimate life of your tattoo.
HOW MUCH FOR SOMETHING "THIS" BIG?
We have no idea what you are talking about. We can give rough estimates based on actual dimensions and colors, etc, but until we have your drawing and the location and color scheme, we are guessing. We price between $100-$150 per hour. Our shop minimum is $50.
DO YOU GUYS TAKE "WALK-INS"?
Yes we do, but if you are looking for a larger piece it is best to put a deposit toward a drawing. Consultations are always free and you are always welcome to stop in and talk about your ideas.
THE GUY DOWN THE STREET (OR MY COUSIN) SAID $50, YOU SAID $75, CAN YOU CUT ME A BREAK?
No. There's a saying in this industry "The bitterness of a poor tattoo far outweighs the sweetness of a good price."
Price shopping is never beneficial to the client or the tattoo industry and we do not intend on debasing our art or profession or cheapening your tattoo experience by "making a deal." We are very reasonable, and price by the piece — fairly based on our time, size, and placement– not the car you're driving or the purse your carrying (sadly, a real thing).  If a shop minimum of $50 is outrageous because your guy can do it for $20, please make better life choices (it helps!). This is your skin forever– ever buy a $20 necklace? Ever try to where it forever? Yeah, it's like that times one million.
Shop by portfolio not price, trust your decision, invest in yourself.  We are fully licensed, insured, and go to great (and expensive lengths to make a very clean very lovely, very safe tattoo every time–if your "guy is less, he's cutting corners with your safety.
Also note that if you let that guy tattoo you in your home, you cannot be tattooed here for 90 days, and it will cost you far more time to cover-up "scratcher" scars and ugliness than to do it right the first time. There are some nasty bugs out there, with an open wound and an inexperienced hand and maybe a cat box, dog fur,  pampers or food nearby you are gambling with your health and well being. Just so much YUCK.
And this is in no way judgemental, you do what you do, we'll do what we do:good clean, solid tattoos for the life of the wearer.  There are none finer.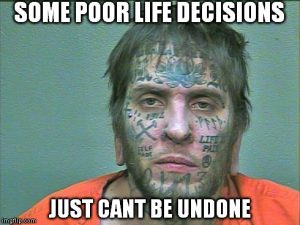 DO YOU GUYS TAKE TIPS?
You bet! It's a very nice compliment, and highly suggested based on your satisfaction with our service. We work very hard to continue bring you the best the industry has to offer and love to hear how much you appreciate the difference!
CAN I TAKE THIS DRAWING OUT OF THE SHOP, CAN I PHOTOGRAPH THIS WITH MY PHONE, OR CAN YOU EMAIL ME A DRAWING?
NO. We are so glad you love your drawing so much you want to share it before it's on your body, but this is how we make a living. To allow our drawings to leave the shop sometimes opens up "price shopping" and theft of images. Once the tattoo is in your skin, baby you photograph and share the heck out of it—it's yours and no-one can take it! Until then, it remains our property.
IS "THIS" ALL YOU GUYS DO?
Yes. We went through lengthy training and continue our education in the field of commercial arts and tattooing. It is our profession, and we take it seriously. We hold that the art of modification and beautification of your skin is sacred, seriously you should too. While we have lives outside of our jobs, hobbies and interest, and families, we specialize in bringing you the utmost in tattooing.